iManage Work addresses the apprehensions raised by two kinds of professionals, the people that don't want several users working on a file simultaneously and the ones who must work together with a team of professionals to complete an agreement using an interface of their choosing.
To accommodate those who don't want multiple users editing the document at the same time.   This feature has existed for many years.  When using it each person checks out the document to make needed modifications and all the other users who want to open the same document must open it in read-only mode.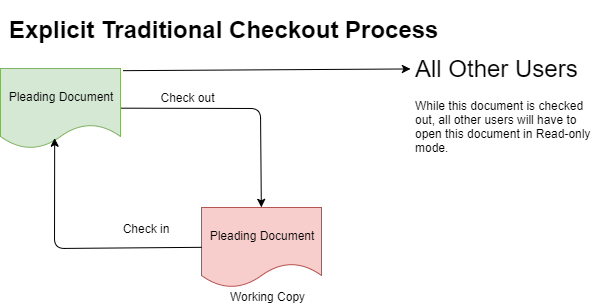 An explicit document check out model limits the capacity for those who would like to work on the same document collaborate. There are several limits to an explicit checkout model:
Users must manage their schedule around editing the document
If external collaboration is required, emailing a document is an easy way to deliver it, however, it can leave your company at the risk of potential data leaks
Merging changes is a manual and laborious process fraught with risk
Some users may use private sharing solutions to cooperate without the company's knowledge, and the end result is that the document has no audit trail.
Co-authoring for iManage Classic Clients (FileSite/DeskSite) permits users to take a fresh approach to working together on a document. While the file is still explicitly checked out, it can now be shared with a designated group of persons. This guarantees only one person keeps charge over the versioning procedure while all actions during this collaborative session are reviewed in iManage Work with the original file. Documents are shared in the company's secured OneDrive for the Business environment during the co-authoring session, guaranteeing the documents won't loose governance.
This brand-new feature gives users the capability to explicitly look over a file for co-authoring and allow certain people to contribute, in place of it being open to any user who has permissions. This ensures only one individual has total control over the versioning process in iManage Work. All activities done during this collective session are audited in iManage Work within the original document.
iManage's co-authoring solution delivers several key benefits to both end users and the company:
Co-authored document auditing: Actions and contributors are audited to deliver visibility into a co-authoring session.
Not dependent on a Microsoft desktop sync client: Easy client deployment that decreases the number of failure points.
It works from any device: Users can work from desktop, Tablet or Mobile. The changes can be made and saved to iManage Work.  Users can effortlessly switch between devices and keep working on the same document.
Support for OneDrive on-premises and as part of Office 365: Flexible design lets companies balance security along with ease of deployment and effortlessly switch between the two distributions with nominal effort. External collaborators, for example, contractors, can add to a document without requiring access to the iManage repository.
Streamlined workflows intended for the end user: Sharing, accessing, and saving co-authored document workflows are caringly designed to lessen user friction and increase acceptance.
Advanced co-authoring workflow support: iManage Work Co-Authoring supports several kinds of use cases, from internal collaboration for quick edits to any needed complex external collaboration lasting for months.
Advanced logging: iManage Work Co-Authoring users aren't merely end-users; they are also the IT support staff. Advanced logging aids IT personnel in supporting users with any problems.
iManage links (NRLs) function in the same way as before, permitting users to merely double click and join the co-authoring session if given permission to do so. Once all operators have finished their needed edits, the master controller can bring the edited content back into the system as a new file version.